Upgrade your existing Apogee System
Existing Apogee Equipment
Our product is specifically designed for organisations that have existing Apogee building controls and equipment in their buildings. If you are looking for an alternative to the Desigo Upgrade path in order to retain all of your existing equipment, then BACnetP2 is right for you.
Closed VS Open
Siemens Insight is a proprietary system. This means that the data is not available to outside applications and it is referred to as a closed system. If you want to get data out, then you must upgrade to a different, open system that uses a protocol like BACnet. Similarly, if you would like to add components to your system that are made by different manufacturers, you will need an open system. BACnetP2 allows you to keep your existing system in place, while reaping the rewards of an open system.
Flexibility
You can decide whether to keep Insight or change to a new interface. BACnetP2 will work alongside whichever you select. You will be able to choose a new BMS (Building Management System) with BACnetP2 and benefit from the flexibility of an open system.
Data Visibility
You might want to keep using Apogee and Insight because your system is working well and why fix what isn't broken? The problem comes in when you need to get visibility of your data, for analytics and monitoring but your software doesn't "speak" P2. BACnetP2 allows you to get data out of your system by providing a "translator" between the two systems. If you decide to keep the Siemens Insight but would like to expose the data via BACnet then BACnetP2 is available with a "Read Only" option at a discounted price.
Benefits
You don't need to spend a fortune upgrading your BMS to stay compliant with health regulations and meet your sustainability targets. Use BACnetP2 to upgrade at a reasonable price. You'll also save a substantial amount of time and your operations can continue seamlessly.
| | |
| --- | --- |
| | Keep your equipment, keep your investment |
| | Unlock your system |
| | Good for the environment |
| | Great for your health: Allowing you to monitor and improve the indoor air quality conditions |
| | No down time: Keep your mission critical operations going |
| | Saving you money: The lowest cost alternative that works |
Keep your Investment
When you have an existing Apogee system that you would like to upgrade, or add equipment to, you have three options:
replace all of your existing equipment and change to a different BMS, which may any other BMS
upgrade with Desigo
keep your existing equipment in place and use BACnetP2 to integrate with new BACnet compatible controls.
This means that with BACnetP2, you keep all the equipment that still works, so you get to keep your investment in that system.
Unlock your closed system:
Apogee is a closed system but, integrating with BACnetP2 unlocks access to all of the benefits and flexibility that an open system offers. For example you can add components into your system from other manufacturers, and you can also access the data you need.
Good for the environment:
Retrofitting: Your BMS is likely made up of controls that are almost all still in good condition. You can keep your equipment out of the landfill and save valuable non-renewable resources by only replacing and upgrading faulty controls.
Helping you stay compliant and meet your sustainability goals: BACnetP2 will allow you to get data out of your system to measure and manage your energy use. You can also upgrade certain pieces of equipment as needed to ensure optimum efficiency.
Great for your health:
Indoor air quality has a direct impact on the health of building occupants. There are specific recommendations regarding indoor air quality aimed at safeguarding the health of occupants. For example the US Centers for Disease Control and Prevention (CDC) announced in May 2023 that air inside buildings should be replaced a minimum of five times every hour, and that it should be cleaned with minimum efficiency reporting value (MERV)-13 air filters, read more here. BACnetP2 allows you to get the data that you need for proper management of your indoor air quality out of your system. As mentioned, you can also replace faulty or inefficient pieces of equipment, which will help you meet your indoor air quality goals without replacing your whole system.
No down time:
Keep your mission critical operations going. Many organisations cannot afford to let their system go offline, due to the nature of their operations. For example, in the Healthcare industry, the HVAC system cannot simply be turned off while upgrades are undertaken. BACnetP2 eliminates this issue, because integrating with BACnetP2 does not take the system offline at any stage.
There is minimal time involved in the installation: it usually takes less than two hours. This means that big projects with time sensitive budgets can easily be completed.
Saving you money:
BACnetP2 is the lowest cost alternative that works, and there are no annual fees. Replacing existing equipment can be expensive, especially when you have a very large system. The mainstream path for upgrading your existing system can also be very expensive. BACnetP2 allows you to upgrade at a fraction of the cost. You have most likely been offered a quote to upgrade your system already, ask us for a BACnetP2 quote today, we guarantee you will be surprised at the price difference.
Get a quote
Send us the System Profile Report and we will send you a quote!
Access BACnetP2
Whether you have your own building controls department with inhouse staff, or if you contract your building controls management out, you can benefit from BACnetP2. You can buy directly from us, or through a contractor.
1) If you have your own building controls capability we work directly alongside your controls team to supply and support the implementation of BACnetP2. Our technical experts will be with you every step of the way, from helping you get the reports for a quote, to the onsite install, to the post sale technical support.
2) If you subcontract your building controls management to a contractor we will happily work with your contractor of choice.

You don't have to worry about the price changing, it is the same if you buy directly from us or through a contractor.
Case Studies
We have implemented BACnetP2 at 81 sites worldwide. BACnetP2 helps people in different industries save money, time and equipment while achieving their goals for their BMS. Some of our success stories can be found below, and more will be added soon.
Case Study: 45 Schools in Baldwin County
The schools have kept all of their existing equipment which has significant cost and environmental implications
They are now enjoying a stable system and connection
The system can now perform optimally to ensure a comfortable and healthy learning environment
Overview
BACnetP2 has been pivotal in an undertaking to modernise the BMS systems in schools in Baldwin County. This project involves 45 schools across the county and is taking a phased approach, the first of which has been completed with great results.
After a compelling demonstration of BACnetP2 to a USA based controls contractor, a proposal was taken forward to the schools. The flexibility of BACnetP2 meant that after they presented their proposal, the schools could choose to complete the project in sections, adding on to the licence as they go.
The first phase has been to install BACnetP2 in 4 schools with 29 panels and 505 TECs – most of the equipment is almost 20 years old but is still working well, so with the help of BACnetP2 the schools have been able to retain their investment in equipment while upgrading to a new front end.
Considerations
The schools were unhappy with the system that they had because all 45 schools were routed to a single Insight server using the internet (WAN) and the results were poor with schools constantly going offline. The schools have over 30,000 students and stable system is a necessity in maintaining a healthy and comfortable learning environment.
Solution
We have installed a dedicated gateway at each school which removed the exposure to poor internet connectivity issues. The system has been more stable since the first install which took under 2 hours and was completed without interruption to the system or the students.
Results
The schools now enjoy an upgraded system that is working well, without connection issues. They have been able to enjoy the significant savings associated with keeping all of their existing equipment as well as avoiding the environmental impact associated with replacing all of their equipment.
Over 22,000 Devices Saved
Our first integration was our beta site in 2018, and we are delighted at the market reception of our product. Since our beta site, we have integrated 22,348 devices across 81 sites and 6 countries.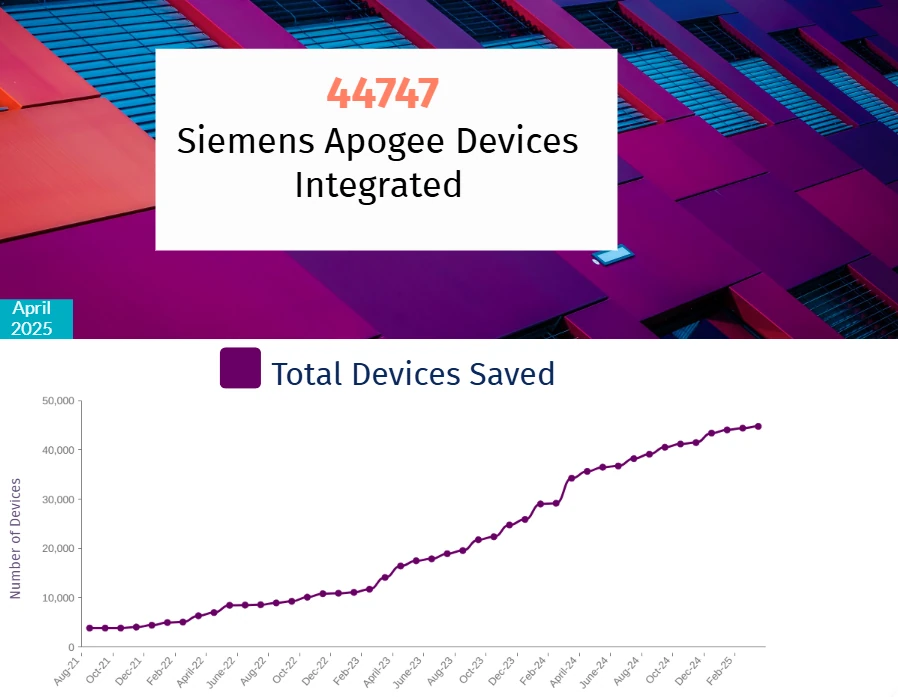 We have integrated with over 22,000 apogee devices. That is over 22,000 working pieces of equipment that have been rescued from being tossed into a landfill. Besides precious landfill space and plastic landing up in the ocean, when we consider the energy and natural resources that go into manufacturing new controls and equipment, saving devices is a win in our opinion. We are saving you money and helping you save the planet, one device at a time.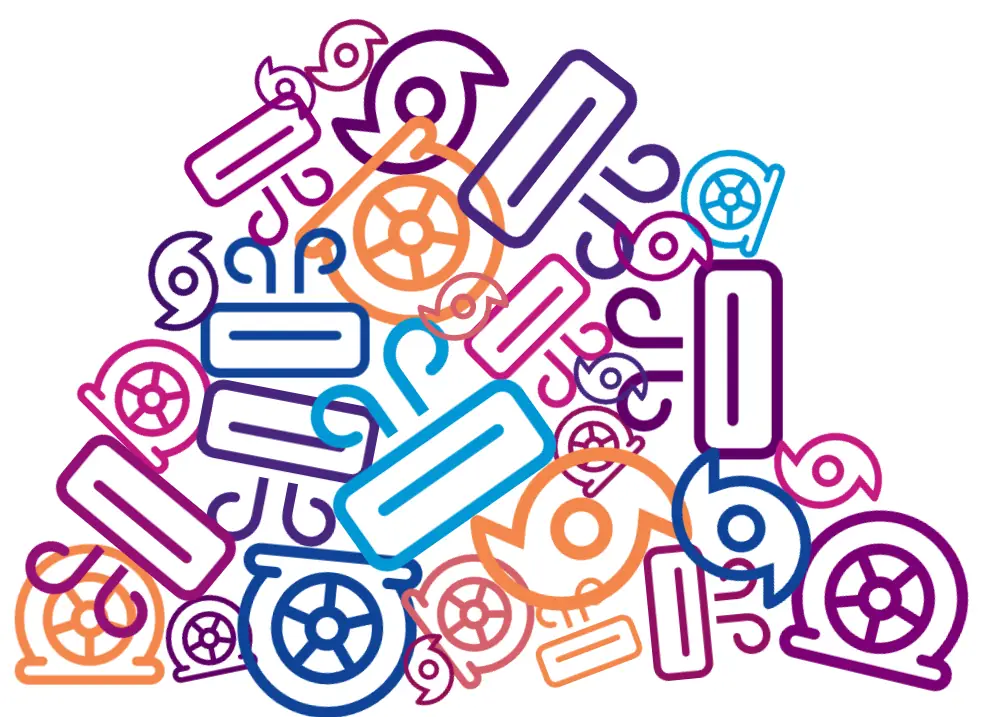 Glossary
Analytics and Monitoring – The use of data from from a Building Management System to understand key metrics on system usage, performance and efficiency. This data can be used, for example, to inform decisions on how to reduce energy usage.
Apogee – A discontinued, proprietary Building Automation System produced and sold by Siemens in the period 1998-2018.
BACnet Compatible – Any building controls equipment that is capable of integrating with and sending data to and receiving data from native BACnet devices.
Building Automation System (BAS)– any system that is used to manage and control electronic and mechanical systems in a building such as HVAC, lighting and security.
Building controls – Equipment and hardware that makes up the physical aspect of a Building Automation System, eg. fans and sensors.
Building Management System - synonym for BAS.
Closed System – a proprietary system that does not allow communication with or accessibility by systems from other manufacturers.
Data Visibility – the ability to access and "see" data from a Building Management System.
Desigo Upgrade path – The Siemens recommended path for upgrading an Apogee system by replacing the Insight user interface (or GUI) with Desigo CC.
Expose the data - refers to making data available for consumption by one or more parties.
Graphical user interface (GUI) - digital interface in which a user interacts with graphical components such as icons, buttons, and menus.
Siemens Insight – The "user interface" for Apogee.
Interface – The front-end or user interface of the software with which users interact.
Minimum efficiency reporting value (MERV) - measures how effectively the filter stops dust and other contaminants from passing through the filter and into the air stream.
Mission critical – any essential service necessary for normal operations.
Native BACnet Devices – devices which use the BACnet protocol to send and receive information.
Non-renewable resource – a natural substance that is not replenished with the speed that it is consumed.
Open System – An open protocol for which the communication rules are publicly available.
Points (Points of Control) – A term used to describe a control operation, whether it be a sensing action or a controlling action. A point can be anything from a temperature sensor, to an output of a proportional controller operating a control valve.
Proprietary System – see Closed System.
Read only option – this version of BACnetP2 does not allow you to "write" to the points, but only read the data. The points must still be written to and controlled via either Insight or Desigo.
Retrofitting – introduction of new materials, products and technologies into an existing building.